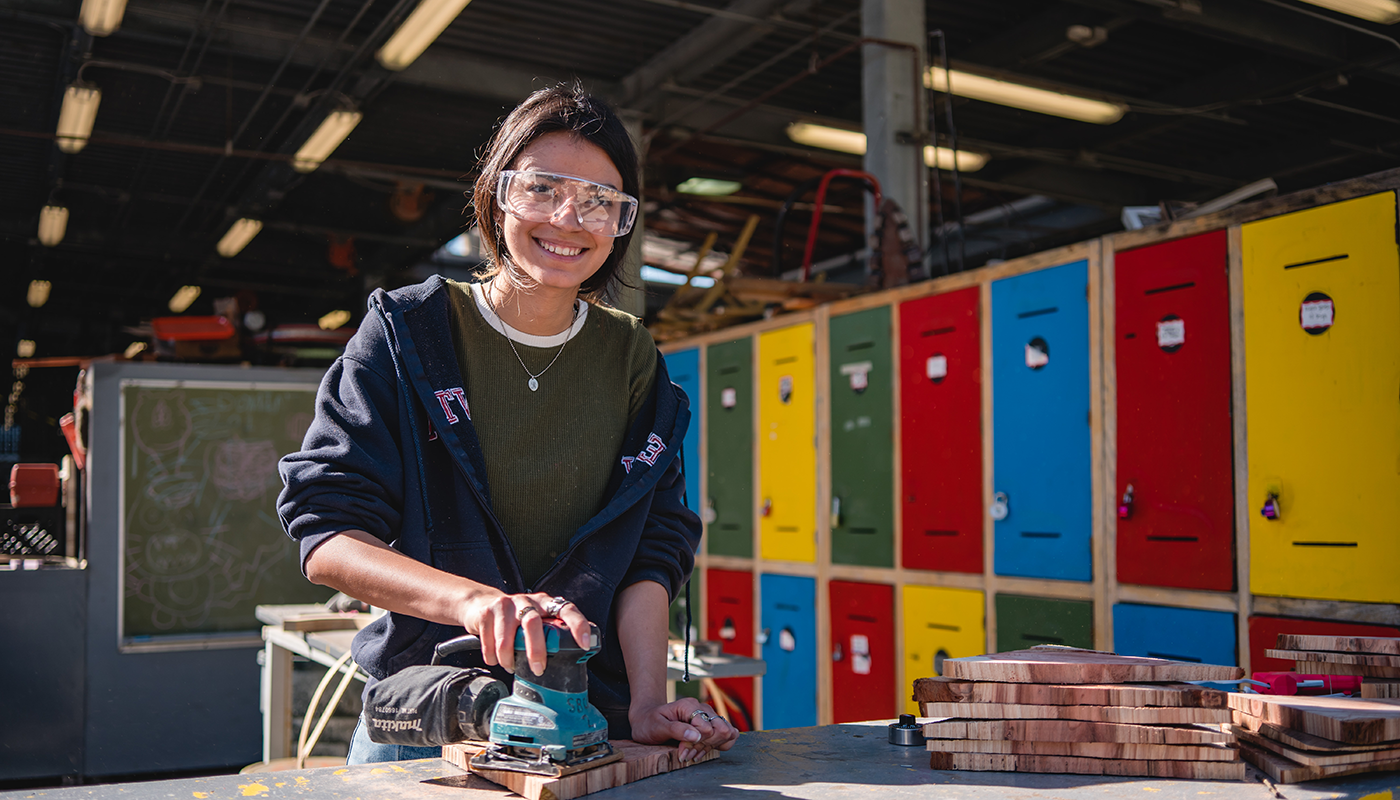 Art
"Focus on something you are doing so deeply that it acts like a magnet for those around you and they cannot continue to do what they are doing."

—Dorothea Rockburne
The Art Department at Santa Barbara City College provides the students an opportunity to study and experience art from a broad range of emphases: a well-structured art studio or art history curriculum for the traditional art major; as part of a structured program for majors from other departments such as MAT or Graphic Design; or for enrichment, development and fulfillment of college requirements for the non-art major.
The department offers courses in design, drawing, three-dimensional design, painting, printmaking, ceramics, sculpture and art history to provide the student a full background and training for either transfer to another institution or to proceed independently.
The Art department is committed to student success in its many programs by providing the highest level of instruction and experience from our foundation level courses to the upper level studio classes. We offer an Associate of Art degree or transfer certificate in Studio Art and Art History and have seen many of our students successfully move on to art schools, 4-year Institutions and professional careers.
Through the Atkinson Gallery, the Art Department's dedicated gallery space, we maintain a strong commitment to our local community and have reached a broad audience through exhibition programming.
Our Fine Arts Lecture Series bring speakers representing many art disciplines from across the country to our department. Dozens of innovative artists and historians have shared their journeys and directly advised our own students.
Program Student Learning Outcomes
Demonstrate knowledge and application and/or analysis of formal principles and elements of art.
Demonstrate critical thinking as it applies to critique, evaluation and/or production of works of art.
Demonstrate proficiency in understanding and/or use of tools and techniques of making visual art.
Demonstrate knowledge of various artistic movements and significant artists.
Demonstrate professional behavior in the studio/ classroom.
Department Offices
Division: Fine Arts
Dept. Chair: Armando Ramos (H-209)
Dean: Priscilla Mora (BC-217, ext. 2354)
Faculty and Offices

Christopher Bates, Ceramics Area Head (H-210, ext. 2410)
Stephanie Dotson, Printmaking Area Head (H-213, ext. 3622)
Joy Kunz, Art History (H-212, ext. 3737)
Thomas Larson, Art History (H-211, ext. 2955)
Christopher R. Ulivo, Painting Area Head (H-214)
Armando Ramos, Sculpture Area Head (H-209, ext.4211)
Stephanie Washburn, Drawing Area Head (H-224, ext.4218)
LOCATION: Humanities Building
First Floor:
Art History
Ceramics
Sculpture
3-D Design
Printmaking
Second Floor:
Atkinson Gallery, H-202
Art History
Art Department Faculty Offices
Administrative Assistant Office
Studio Art Foundations (2-D)
Painting
Drawing
Image Resource Center
Ann Wellman, Image Resource Curator (H-223, ext. 3875)
Art Department Administrative Assistant
Khalil Lemons (H-227, ext. 4772)
Art Department Laboratory Teaching Assistant
Joe Tamony (H-108, ext. 4386)
Atkinson Gallery Director: John Connelly (H-208, ext. 3484)
Atkinson Gallery (H-202, ext. 3484)
Adjunct Faculty - In addition to the full-time faculty, the Art Department has a strong adjunct teaching faculty. Among this changing group of working and exhibiting artists and art historians are Daniela Campin, Nathan Hayden, Rafael Perea de la Cabada, Greg Kozaki and Barbara Vilander.
The Art Department strongly encourages students to complete the Foundation Level courses below prior to more specialized courses. Santa Barbara City College is enforcing all prerequisites, and registration will be blocked unless the prerequisite courses have been completed.
ART 103/103H — History of Art, Prehistoric to Gothic,
ART 104/104H — History of Art, Renaissance to Modern
ART 120 — Fundamentals of Drawing
ART 140 — Studio Art Foundations (2-D)
ART 141 — 3-D Design: Form and Space