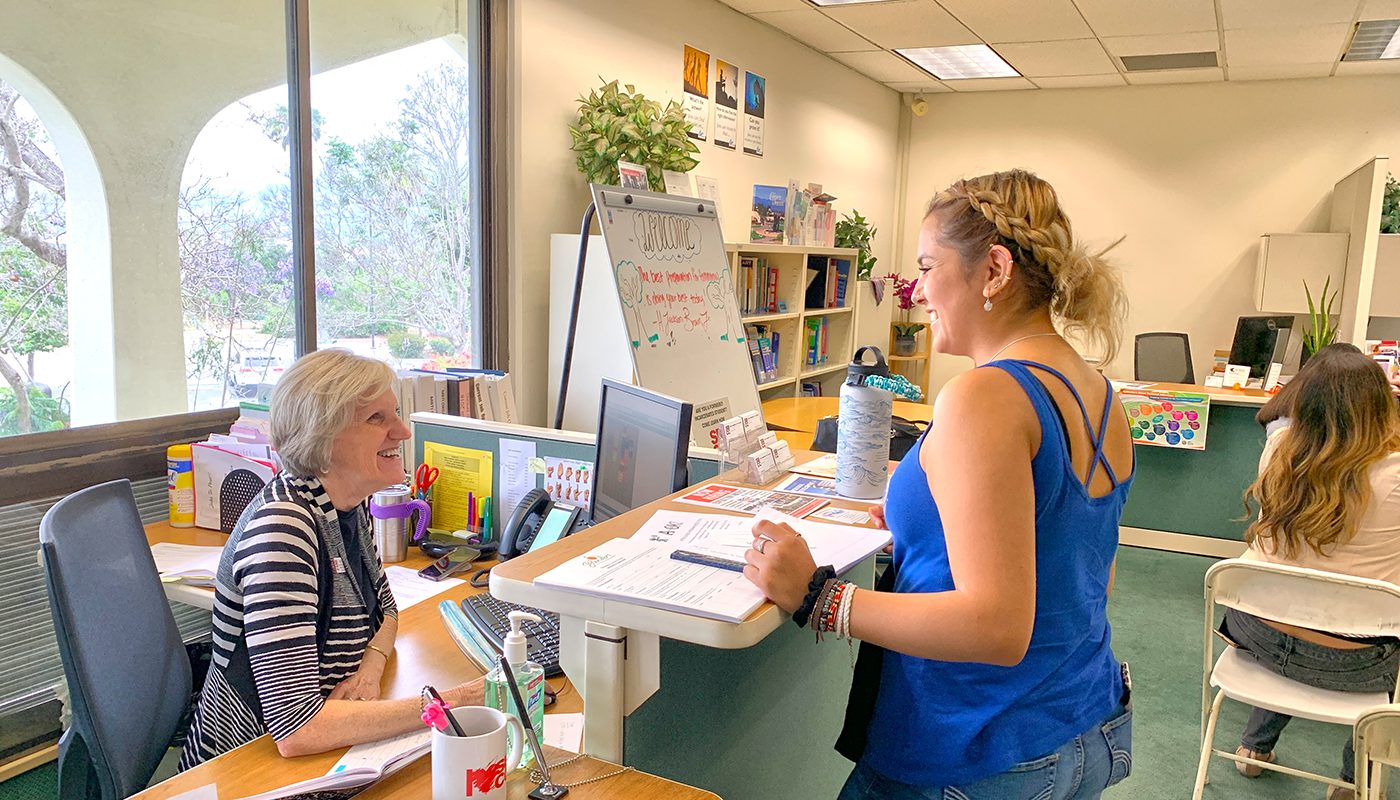 Student Employment Opportunities
Many students work while they are enrolled in classes, as well as explore opportunities for after graduation. We invite you to explore your job, internship and volunteer opportunities here! When campus is open, you are welcome to drop in to the Career Center in SS#282. No appointment is necessary.
The Job Connection is for SBCC students!
View and apply for on- and off-campus jobs, internships and volunteer opportunities!
---
Your Job Search: Getting Started
Set a Schedule
Set aside a specific time to do your job search. If you are applying to multiple places, set up a system where you can keep track of where and when you applied, so that you can follow up if needed.
Be Flexible
Changes do happen. As with any plans today, we are adapting to challenging situations. Don't be too hard on yourself. Allow yourself the space to adjust as needed.

Check Out Our Resources
Review this page, and also click on the pull down menu to see more information and services
Contact us

for personalized service, questions or assistance
Create a record on the SBCC Job Connection, a jobs database for SBCC students with on- and off-campus jobs, internships and volunteer positions

Conduct a search on w

ebsites

Google: in the search field enter keywords such as "Santa Barbara + jobs"
Network
Stay in contact with family, friends, and your other connections
Let others know that you are seeking employment
Consider setting up a LinkedIn account
A Note on Remote Services
Please note that the Career Center is fully available to remotely assist you with finding employment during COVID-19. For students seeking on campus jobs: there are fewer available during this season, and we recommend that you check the Job Connection on a regular basis for opportunities, especially as it gets closer to the beginning of the semester, when supervisors are most likely to post openings.

Watch How to Find a Job
---
Student FAQs
You must be registered for 6 units or more (12 units for International Students)

A Federal Work Study (FWS) job lets you earn part of your college expenses and can open up more on-campus job opportunities for you. The purpose of the program is to promote part-time employment opportunities for students. If you are eligible, you will be notified on your financial aid award letter (available in your SBCC Pipeline account).

FWS students must be enrolled for a minimum of 6 units and may not work more than 19.5 hours per week on campus.

To see if you have FWS as a part of your financial aid package, check on Pipeline, under Financial Aid Award or contact the Financial Aid Office
You must have filled out a FAFSA and qualify for Federal Financial Aid
You must be a U.S. citizen or permanent resident


If you have any questions, please contact the Financial Aid Office in Room SS210 or call (805) 965-0581 ext. 2301.

Each campus department conducts its own hiring, and some do not post job openings on the Job Connection. You may go in person to see if a department is hiring. Have your available-to-work hours ready. While some supervisors do not require a résumé, if you want to prepare a résumé beforehand, drop by the Career Center and we will be glad to help.

The departments below often have applications that can be picked up in their areas.

Security: Issue parking citations, parking permits, provide parking information at kiosks and be campus escorts for students. Drop by the Security Office & fill out an application. (Must have received Federal Work Study financial aid.)

Food Services: Main Cafeteria and West Campus Café: you can drop by the cafeteria to pick up an application for jobs such as cashier, food server and kitchen clean up. Coffee shops, located in the Campus Center and West Campus Library, are posted on the Job Connection.

The Library and Learning Resource Center: Various jobs can be found on the Job Connection.

Disability Services and Programs for Students (DSPS): Assist disabled students in their classes; note taking and more. Contact DSPS Office in SS-160.

Athletics: Go to the towel cage by the Life Fitness Center and inquire. You must have been awarded Federal Work Study as a part of your financial aid. Inquire at the Financial Aid office to see if you qualify.

The Human Resources office handles student employment paperwork. Details are available on their website.

The Career Center is available to assist you in finding an internship that will help you meet your education and career path goals.
Find out more about internships

Please note that SBCC is unable to research the integrity of each potential employer. Therefore, students are urged to undertake this responsibility. Use caution and common sense when applying for any position with an organization or applying for a job with a residential address.

While there are legitimate opportunities for individuals to work from home, be sure to research the position in advance of applying. If you suspect a position listed on Job Connection is fraudulent, please contact the Career Center. If you believe you are the victim of fraud resulting from a job listing, please contact the local police as well.

It is very important for you to educate yourself about potential scams. Here are some good tips that the job is probably fraudulent:

The promise of a large salary for very little work - especially those that state thousands of dollars of income per month with little or no experience required.
Positions that ask you to give credit card, PayPal or bank account numbers, or copies of personal documents.
Jobs that ask you to send payment by wire service or courier.
Positions in which you are offered a large payment or reward in exchange for allowing the use of your bank account - often for depositing checks or transferring money.

Federal Trade Commission Consumer Information on Jobs and Making Money

Why use LinkedIn?
LinkedIn is a social networking site for students and professionals. Your LinkedIn profile can serve as an online résumé. Using LinkedIn can be valuable in job searched, preparing for interviews or making professional contacts. Career Center staff can help you set up your LinkedIn account and profile.

Learn how to create and navigate an account.
- Open your Pipeline account and click on Student Resources
- Under Class Resources, click on LinkedIn Learning
- In the search field, enter, "Learning LinkedIn for Students"
- View the course

Create an account now.

On-Campus jobs: International students must be currently enrolled in at least 12 units and can begin work their first semester on campus. Students must be in good standing (2.0 GPA) with the ISSP office. International students are not eligible for Federal Work Study jobs.

Off-Campus jobs: Please check with your international student advisor as to your eligibility to work in the U.S.

Below are some resources for undocumented students and DACA beneficiaries.

National Immigration Law Center FAQs
Workplace rights for DACA students

Undocumented Students Guide
Guide posted on the SBCC Library website that provides recommended resources for research, and services related to undocumented students.

Immigrants Rising's mission is to "empower young undocumented students to achieve educational and career goals through personal, institutional and policy transformation."

This is for informational purposes only. It is not legal advice or a substitute for legal counsel.